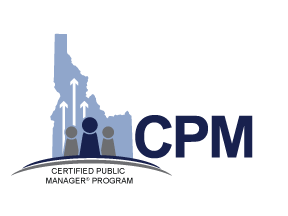 Offered by the Idaho Division of Human Resources, CPM® is a nationally accredited comprehensive public management development program designed to develop the effectiveness of city, county, state, and federal public managers.
Check out CPM's benefits for employees and for their employers.   The Idaho CPM® program was established in 1999 and since that time 667 public managers from across the state have obtained a nationally recognized CPM® designation. 
CPM Public Manager Program Vision and Mission
Mission: Idaho's CPM® program will provide training and certification opportunities to support effective, innovative, and collaborative leaders throughout the State to serve all of Idaho.
Vision: To equip Idaho's future leaders to meet today's challenges and to create a better tomorrow.
Idaho's CPM® Program Goals
• Strengthen organizational performance by improving the effectiveness of Idaho's public managers
• Recognize and promote public management as a profession
• Provide a course of study which public management principles and skills can be acquired and applied
• Foster access to relevant training and education to Idaho's public managers
• Establish an objective assessment of a public manager's professional knowledge and performance
• Establish a standard by which public managers can be recognized